All!  Seminar 2, Coding Play/Crafting Code in the City is this Wednesday, John Hume Board Room at 4PM and already we are getting ready for Seminar 3.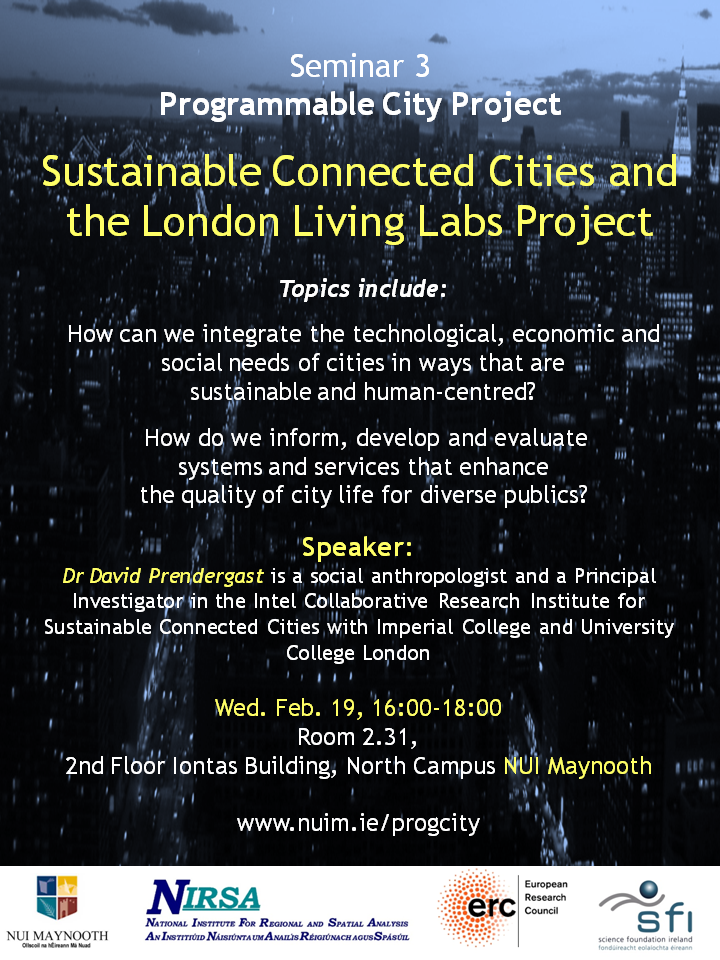 The Programmable City Project is happy to welcome Dr David Prendergast who will discuss Sustainable Connected Cities and the London Living Labs Project.
Time: 16:00 – 18:00, Wednesday, 19 February, 2014
Venue: Room 2.31, 2nd Floor Iontas Building, North Campus NUI Maynooth (Map)
Abstract: Cities offer many opportunities to innovate with technologies, from the infrastructures that underlie the sewers, to computing in the cloud. How though can we integrate the technological, economic and social needs of cities in ways that are sustainable and human-centred? How do we inform, develop and evaluate systems and services that enhance the quality of city life for diverse publics? This talk discusses the approach taken by the Intel Collaborative Research Institute for Sustainable Connected Cities and provides an overview of key projects including the ambitious London Living Labs programme conducted in association with the UK Future Cities Catapult.
Bio: Dr David Prendergast is a social anthropologist and a Principal Investigator in the Intel Collaborative Research Institute for Sustainable Connected Cities with Imperial College and University College London. He also holds the position of Visiting Professor of Healthcare Innovation at Trinity College Dublin. His research over the last fifteen years has focused on later life-course transitions and he has authored a number of books and articles on ageing, health, technology and social relationships. During his career David has been involved in several major research projects including: a multi-year ethnography of intergenerational relationships and family change in South Korea; the provision of paid home care services in Ireland; a three year ESRC study into death, dying and bereavement in England and Scotland; and Intel's Global Ageing Project which explored the expectations and experiences of growing older around the world. After receiving his PhD from Cambridge University, Dr Prendergast held research posts at the University of Sheffield, and Trinity College Dublin.